Co2 laser markers adopt world famous digital laser scanning head, this Co2 laser markers are quite suitable for users requiring highest precision and fastest speed batch production, tags, nameplate, logos.
Co2 laser markers are widely used in the field of non-metal field, such as: garment & shoes engraving, fabric cutting, medical packaging, handicrafts & gift, food printing, soft drink printing, cigarette code, beverage packaging tobacco printing, rubber marking machine, acrylic marker, water bottle marker, marking on plastic, leather engraving industries.
MACHINE APPLICATION SCOPE AND MATERIIALS:
Applicable materials:Can be used in wood,paper,leather,cloth,plexiglass epoxy,acrylic,unsaturated polyester resinand other non-metal materials.
Applicable industry:it can be widely used in leather ,food ,beverage,cloth,electronic,meter,communication instruments,package,etc.can be cooperate with production for online marking.
It can proceed marking/carving/engraving/nicking a variety of text, symbols, graphics, images, barcodes, serial numbers,etc.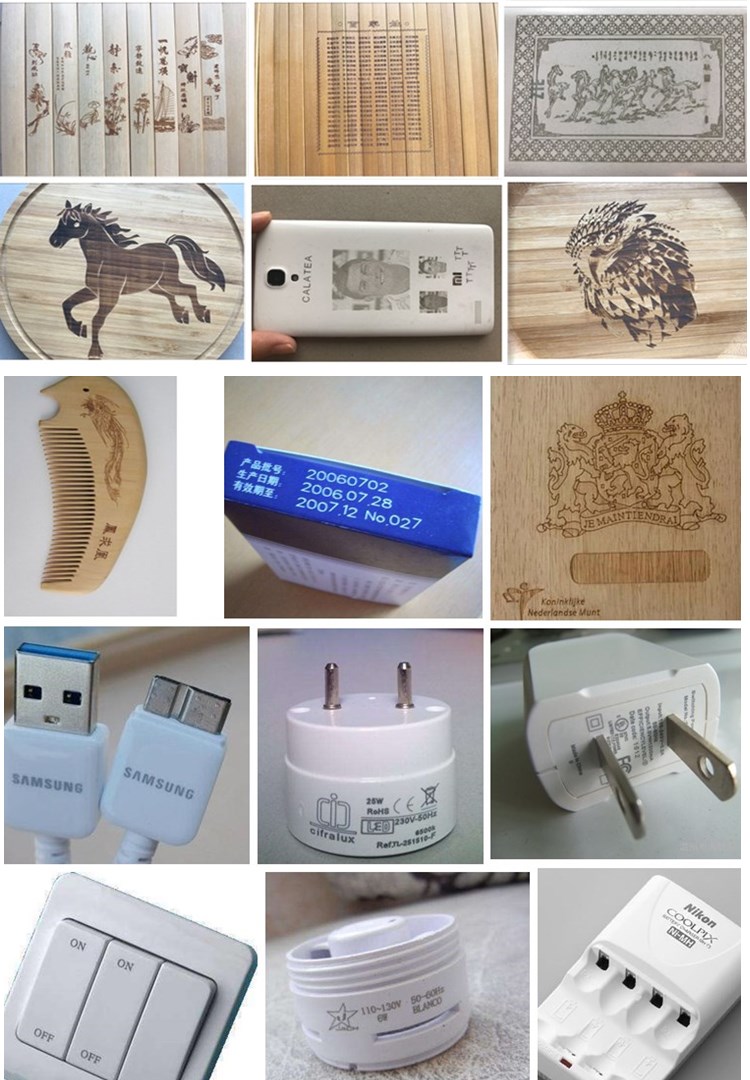 Features:
1. Co2 Laser Marking Machine is specially designed to equip on production line and pipeline worktable in your factory or being made by us to reach flying marking application at high speed.
2. More compact machines and Laptop control the whole machines.
3. Working time: 40,000 hours
4. The laser head is with 360°rotation angle, so the laser beam can be parallel, vertical, oblique at any angle.
5. The laser head is fixed on a trestle and easily to adjust the height and distance from the object.